Annual Reports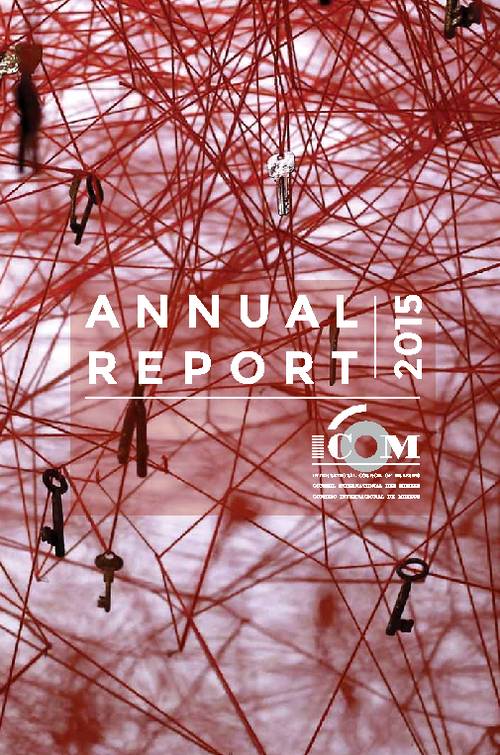 Annual Report of ICOM Europe – 2016
I) PROGRAMMES 2016
CONFERENCE(S), TRAINING(S), WORKSHOP(S) (1)
Title
ICOM Europe Annual Conference
Date
28 and 29 November 2016
Location (City and Country)
Lisbon, Portugal
Host Institution(s) or Organization(s) (if applicable)
Foundation Calouste Gulbenkian
Title and Theme(s)
National Museums: past, present and future
Number of Participants: ICOM
c. 50
Number of Participants: Non-ICOM
c. 80
Number of Keynote Speakers
11
Number of Presentations
13 + 8 in panels
Project Language(s)
English 
Geographical Impact
Present colleagues from 15 European countries, from East (ex: Poland, Romania, Bulgaria, etc) to West (ex. Portugal, Spain, France, UK, etc), and from North (ex: Norway, Sweden, etc) to South (ex: Greece, Slovakia, Croatia, Italy, etc.). Presence of the former (Hans-Martin Hinz) and the current (Suay Aksoy) Presidents of ICOM; presence of the coordinators of the most significant EU projects with direct impact in National Museums. See the Conference program in attachment.
Linking to the ICOM Strategic Plan 2016-2022
Enhancing membership value through improved participation, service, communications, and capacity building: Participation by attendance (see the numbers giving regarding participation), Virtual participation (the works have been diffused in real time, by streaming, and then video recorded to be available in ICOM Europe web site), Democratic participation (no fees were established, so all types of potential interested attendants were able to register), Capacity building (either key-speakers as panelists and participants in debates have allow for an extremely enriching capacity building, as it has been emphasized by many attendants) , Value of the annual meetings (this has in fact be the Annual Meeting of ICOM Europe, relaunched after almost a decade of nonexistence)
2)      Enhancing ICOM's international profile: Regional events and meetings (it is precisely a Regional, pan-European, Conference)
3)      Raising the visibility of ICOM (this Conference has been worldwide referred in museums networks and social media; it has also been referred in press)
4)      Enhancing ICOM's international: Cultural Property Protection (both the last UNESCO Recommendation on Museums and Collections and the so-called Faro Convention, from the Council of Europe, have been presented by their most active promoters (Hans-Martin Hinz, President of ICOM when the UNESCO Recommendation was approved, and Guilherme d'Oliveira Martins, Chair of the Technical Group of the Faro Convention)
Outcomes
Abstracts of all speeches were previously distributed and are available in the ICOM Europe web site (http://network.icom.museum/europe). The all Conference has been video recorded and will be available at the ICOM Europe web site. A volume of printed Proceedings is preview, depending of the financial support already asked to ICOM.
_______________________________________
II) COMMUNICATION 2016
WEBSITE, SOCIAL MEDIA, NEWSLETTER
After years of practical non-existence (an ancient website was online, but completely freeze for several years ago), a new web site, with a completely new design line, has been created, taking advantage of the ICOM platform: http://network.icom.museum/europe
It is still under construction and will constitute a line of work in 2017.
Facebook
It was also created a Facebook page for ICOM Europe, never existent before: https://www.facebook.com/icomeurope.museums
This page has already more than 30 thousand reached people and more than 4 thousand engaged posts.
 ____________________________________________
III) NETWORKING 2016
COLLABORATION WITH ICOM COMMITTEES AND OTHER REGIONAL ALLIANCES, ORGANISATIONS OR INSTITUTIONS
ICOFOM and ICOM Portugal: ICOM Europe participated in the Journeys of ICOM Portugal on the theme "Museums, Communities and Tourism: a virtuous tringle?"" (http://icom-portugal.org/destaques,0,565.aspx)
UK Association of Museums: The President of ICOM Europe was invited to participate in a panel ("Bravery and a sense of place in abandoned lands: the role of eco- and community museums") of the annual Conference, in Glasgow, 7-9 November
NEMO: The President of ICOM Europe participated in one of the Learning Exchanges of NEMO, directed towards the System of Museums of Bosnia and Herzegovina, and hosted by the Balkan Network of Museums
ICOM LAC: the common project of ICOM EU and ICOM LAC on "Museums and Community: Concepts, Experiences, and Sustainability in Europe, Latin America and the Caribbean – EULAC MUSEUMS" began in September; in this frame, two workshops on 3D registering were produced (on in the Shetland Islands, Scotland, UK; another in Seixal and Lisbon, Portugal) and a open meeting on the theme "Community Museums: where are we standing?" was organized at the occasion of the kick-off meeting of the project (National Museum of Archaeology, Lisbon, Portugal)
Result(s)
A part from the self-evident results relating the participation and the nature of the referred events, further documentation has just putted online in the web site (http://eulacmuseums.net/) and the Facebook page (https://www.facebook.com/search/top/?q=eulac%20museums%20and%20communities) of the EULAC MUSEUMS Project.