European Organizations and Projects
EUROPEAN YEAR OF CULTURAL HERITAGE
OUR HERITAGE: WHERE THE PAST MEETS THE FUTURE
New documentation emergind from the 3rd meeting of the Stakeholders Committee and the official lauching session (Milan, December 2017):
EYCH-label_award-guidelines_en
YECH _ EU initiatives _ general view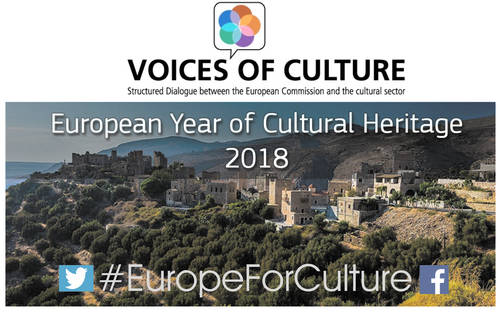 2018: European Year of Cultural Heritage on the move…
ICOM Europe actively involved in the "Voices of Culture and Heritage" Stakeholders panel
Time do be creative and propositive
Cultural Heritage is in the EU agenda since 2007. In 2014, after orientations taken by the European Council, the European Commission adopted the Communication "Towards an integrated approach to cultural heritage for Europe", leading to the decision of the Council suggesting the celebration of a European Year of Cultural Heritage (EYCH). The European Parliament resolution of 8 September 2015 invited the Commission 'to designate, preferably for 2018, a European Year of Cultural Heritage', which as subsequently been the case: http://ec.europa.eu/culture/news/20160830-commission-proposal-cultural-heritage-2018_en. Finally, the Commission proposal has been just approved (Aril, 27, 2017) by the European Parliament (http://europa.eu/rapid/press-release_IP-17-1111_en.htm), establishing the goals and also the basic organizational architecture for the EYHC, based in two pillars: the National one (focused in "national coordinators" designated by governments) and the European one (composed by the EU bodies, especially the Commission central departments, and the "civil society" contribution, organized under the frame of a "Stakeholders Committee").
The first meetings of both the national coordinators assembly and the Stakeholders Committee have just took place last week, in Brussels. The last one, selected with the assistance of Voices of Culture – Structured Dialogue between the European Commission and the cultural sector (http://www.goethe.de/ins/be/prj/voc/enindex.htm) from a total of several hundred potential candidates, composed by a panel of 38 European representatives of the cultural and cultural heritage sector (integrating organizations like ICOMOS, NEMO, European Museum Forum, Europa Nostra, ICCROM, Europeana, Eurocities, etc), will in the two forthcoming years have meetings with the European Commission to exchange views about the implementation of the Year.
ICOM Europe, throughout its President, Luís Raposo, actively participates in this panel. At the occasion of the first meeting, the following set of departing proposals for the success the Year and the benefit of museums and their publics were advanced:
• travelling exhibitions on European landmarks program, including commonly assurance facilities
• sharing researchers or other staff program
• sharing services (restoration, inventory, digitization, insurances, etc.) program
• support services (HR, ICT, accountancy, facilities) program
• inserting of collections in international networks program
• building collection programs, educational programs with other public bodies
A part from these lines of proceeding, aiming to be practical, ICOM Europe stressed as a major motto for the EYCH the concept "Museums, European Landmark".
Our initial suggestions were integrated in the vast range of proposals putted forward by the members of the Stakeholder Committee and will in the future be considered, as well as others arriving in the meanwhile. So, it is time now to be creative in advancing ideas for activities. ICOM Europe strongly welcomes proposals coming from all ICOM National Committees, as well as all potentially interested professionals in general. They will certainly be taken into consideration and eventually transmitted to the European Commission.
And do keep your agenda free for the launch of the European Year of Cultural Heritage, in Milan, 7-8 December 2017.
Further available recourses in Internet:
http://ec.europa.eu/assets/eac/culture/library/reports/2014-heritage-mapping_en.pdf
https://www.docomomo.com/pdfs/events/news/011233_1860_Sharing%20Heritage_EN.pdf
https://ec.europa.eu/culture/european-year-cultural-heritage-2018_en
Other documentation:
EYCH Presentation_Stakeholders
Presentation leaflet of the participants
Final report of the 1st. Stakeholders Meetings, in Brussels, 28th April 2017
STAKEHOLDERS COMMITTEE – "Voices of Culture"
Memo
Second meeting of the Stakeholders Committee and First Joint meeting with National Coordinators
(Brussels, 7 and 8 September 2017)
By Luís Raposo
President of ICOM Europe
The European Year of Cultural Heritage on the move…
The preparation of the European Year of Cultural Heritage (EYCH) is approaching the decisive moment when different actions are to be launched and decisions to be taken.
2017
-up to 22 November 2017: presentation of projects under the special call of Europe Creative to support cooperation projects related to the European Year for Cultural Heritage 2018 (see details below)
-EUROBAROMETER: Key figures on citizen perception of Cultural Heritage in Europe: Report and facts Sheet: December 2017 (during the European Culture Forum)
-7-8 December: Official presentation of the program and launching of the EYCH during the the 2017 edition of the European Culture Forum, Milan, Italy. The European Culture has been officially announced through our different social media outlets:
· European Commission – DG Education and Culture website:
https://ec.europa.eu/programmes/creative-europe/events/20171207-european-culture-forum-2017_en
· Creative Europe Facebook page:
https://www.facebook.com/CreativeEuropeEU/photos/a.607489815956197.1073741828.603554766349702/1435258609845976/?type=3&theater
· Creative Europe Twitter account:
https://twitter.com/europe_creative/status/880002836062363648
2018
-Innovation and Cultural Heritage": Thematic month and High-level H2020 conference, Brussels, March 2018
-Social media campaign with success stories: March 2018
-RTD Policy Review on cultural heritage, March 2018
-Networking and Launch event of all new 2020 research projects on Cultural Heritage, Brussels, The House of European History, October 2018
-"Heritage Alive" conference and Fair of EU Innovators on Cultural Heritage, Brussels, November 2018
-Catalogue of EU R&I results and prototypes to accompany the Fair of EU Innovators on cultural heritage, November 2018
-Motto/Slogan
OUR HERITAGE: WHERE THE PAST MEETS THE FUTURE
-Logo
Obs: the logo acts also as official label to be awarded under request of promoters of events (see details below)
Attribution (still under considerations)
National Coordinators, EU General Directorates and Stakeholders NGOs, according to the following criteria:
-National events: National Coordinators
-European events:
-EU funded projects: European GD in charge of EU programs;
-Any other projects: Stakeholders NGOs in their respective fields of specialty.
Type of activity can get the EYCH logo
In line with Decision (EU) 2017/864 the following activities are eligible:
(a) initiatives and events to promote debate and raise awareness of the importance and value of cultural heritage and to facilitate engagement with citizens and stakeholders;
(b) information, exhibitions, education and awareness-raising campaigns
(c) the sharing of experience and good practices of national, regional and local administrations and other organisations, and the dissemination of information
(d) the undertaking of studies and research and innovation activities and the dissemination of their results on a European or national scale;
(e) the promotion of projects and networks connected to the European Year, including via the media and social networks. More concretely, the activities can include, for example cultural events or performances, media events launch events, exhibitions, shows; information, education or awareness-raising campaigns; festivals, including film festivals; conferences, symposia, fora, debates; studies, surveys; trainings/ workshops; research activities; visits and exchanges; as well as digital projects.
This list is not exhaustive
Criteria for the labeling of projects with the EYCH logo
 The main criterion to award the EYCH logo should be the project's relevance for the EY objectives. The project/event should answer one or several of the objectives of the EYCH, as defined in Art 2 and 3 of Decision (EU) 2017/864 (http://eur-lex.europa.eu/legal-content/EN/ALL/?uri=uriserv:OJ.L_.2017.131.01.0001.01.ENG). The activity should ideally ensure the sharing of knowledge and experience, by following an inclusive and participatory approach and/or facilitating engagement of citizens and stakeholders The activity should ideally have a short, medium and/or long term impact and reach out to wide and diversified audiences.
4.1. Creative Europe call dedicated to the EYCH 2018:
-Name and number: "Support for cooperation projects related to the European Year of Cultural Heritage 2018" (EACEA 35/2017)
-Themes:
-Reinforcing a sense of belonging to a common European space
-Promoting cultural heritage as a source of inspiration for contemporary artistic creation
–Key features:
-€5 million in total
-3 participant countries
-up to €200 000 per project, representing maximum 60% on the total eligible budget.
-NB: Cultural heritage remains eligible under the 2 categories of the other 2018 call (smaller and larger cooperation projects)
-Timetable:
-Launch of the call: September 2017
-Deadline for applications: 22/11/2017
-Signing of contracts: May/June 2018 (costs eligible since January 2018)
-Web link:
https://eacea.ec.europa.eu/sites/eacea-site/files/2._call_notice_eacea_35_2017-culture-ce-2018_en_.pdf
4.2. H2020 research and Innovation in Cultural Heritage II
A few research topics:
-Innovative and affordable solutions for the preventive conservation of cultural heritage
-Cultural tourism
-The societal value of culture
-Digital Single Market and European Culture
-Historic urban areas and climate change
-Cultural Landscapes
Networks and cultural diplomacy
-Social platform on endangered cultural heritage and on illicit trafficking of cultural goods (CSA)
-International network to promote cultural heritage innovation and diplomacy (CSA)
-EU R&I Ambassadors on Cultural Heritage
-Community of Innovators on Cultural Heritage
Research and Innovation in the agenda of the forthcoming European year of Cultural Heritage
In 2016-17, over €100 million for research and innovation in the field of cultural heritage will be available under Horizon 2020, the EU's research funding programs. This increase in funding recognizes cultural heritage as an investment opportunity where research and innovation can make a difference.
Future calls for financed projects. Themes:
-Innovation and affordable for the preservative conservation of cultural heritage
-Cultural Tourism
-The societal value of culture
-Digital Single Market and European Culture
-Historic urban areas and climate changes
-Cultural Landscapes
4.3. Others
EU Tourism funding opportunities can be used as a tool to be potentiated in the benefit of cultural, cultural heritage and the EYCH in particular.
https://www.google.be/search?q=eu+funding+guide+tourism&oq=tourism+eu+funding+g&aqs=chrome.1.69i57j0j69i60.16677j0j8&sourceid=chrome&ie=UTF-8
Case-studies linking for EU Natural Heritage 2020 Program to Cultural Heritage: an inspirational tool
http://ec.europa.eu/environment/nature/natura2000/management/pdf/case_study_natura2000_cultural_heritage.pdf
INTERREG, MRS, Urban Agenda, Ors
ERASMUS+
5. Documents to consult
–Research for Cultural Heritage (ppt/pdf)
–Call for Proposals EACEA 35/2017: Support for European cooperation projects related to the European Year of cultural Heritage 2018 (doc/pdf)
–Digital for Culture (ppt/pdf)
–How to invest in Culture through R3S, MRSs, Urban Policy, Outermost Regions (ppt/pdf)
–European Maritime Heritage and Culture (ppt/pdf)
–ERASMUS+ and Heritage (ppt/pdf)
–EYCH_onepage information (pdf)
–Community of innovators and EU R&I
–Linking Natura 2000 and cultural heritage (ppt/pdf)
–Guide on EU Funding for the Tourism Sector (pdf)
–Engaging citizens with the Europe's Cultural Heritage
–National Coordinators EYCH (pdf)